Or: Hit the Road, Jack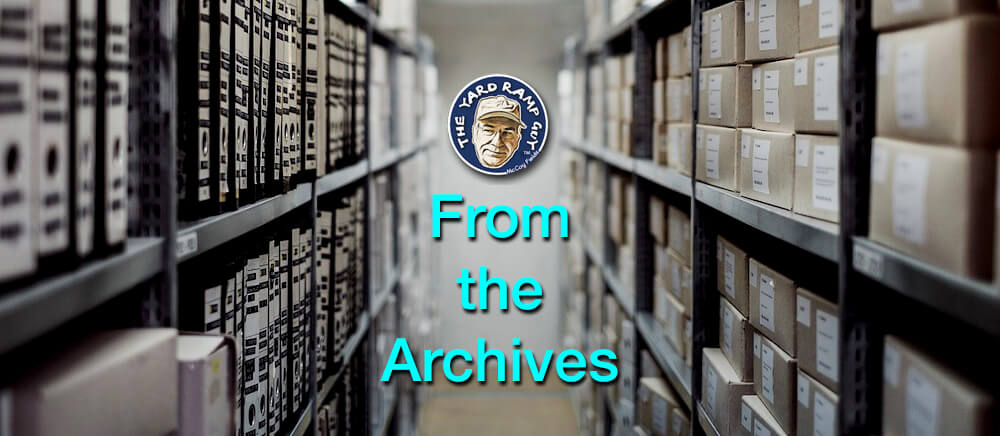 My good friend Jeff Mann, the true Yard Ramp Guy, has asked me to revisit some of my original posts. This week in my From the Archives series: not as numerous as cardboard cuts but much, much worse...
---
Forklifts weigh massively more than cars do. They are not toys. If you play with one, you're going to get hurt or die. Not that those people apt to play with them in the first place are going to listen, but at least I tried.
In all seriousness, they're one of the leading cause of serious workplace injuries in warehouses. (The leading cause of minor injuries—er, hands down—are cardboard cuts.)
An early ancestor of the forklift was a manually powered hoist that we employed to lift a load. Simple in design and easy to manipulate, it generated lift through basic mechanical advantage. Those stuck around for a while without changing much.
In 1906, though, the Pennsylvania railroad introduced battery powered trucks to move luggage at stations. These two developments quickly began converging in the years leading up to the first world war, when a labor shortage—brought on by the war and the Spanish Flu—spurred the development of early hauling tractors and trucks.
We continued to develop these over the years, and the introduction of hydraulics set the pace for modern usefulness.
The most important piece of the puzzle, though, is one that no one blinks twice at today: the standardized wooden pallet. Skids (essentially pallets with no boards on the bottom) had existed since Ancient Egypt.
Up until the 1930s, barrels and crates remained the preferred shipping options. Pallets, however, came together with forklifts in a perfect storm, and we rapidly standardized them, along with forklift sizes. Though there are many different pallet standards today, they largely remain homogenous in any given region.
We also standardized pallet jacks. (Interestingly enough, the pallet jack dates back to 1918, making the forklift actually older than the pallet jack.) The second world war only served to cement forklifts and pallets as preeminent in shipping.
This might all seem like idle trivia, but it's actually incredibly important. We design pretty much everything in that world—from truck widths and road widths to warehouse layouts and cardboard box sizes—with the different sizes of pallets in mind.
_________
Quotable
Cheers to you, Yard Ramp Guy. May 2023 bring greater reach to your business. In the meantime…
"An optimist stays up until midnight to see the New Year in. A pessimist stays up to make sure the old year leaves."
— Bill Vaughn
Yard Ramp Guy Blog: Our 2023 Roundup
This week, my friend The Yard Ramp Guy dusts off his singing jacket and belts out a tune that bogarts the spirit of the holidays and kinda turns it into industrial gold.
Click HERE . . . and I dare you not to at least hum along.