Or Maybe Just Pull Over & Watch the Traffic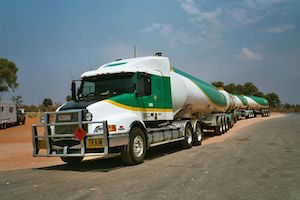 Anyone who spends a lot of time road tripping has likely seen a road train, a semi truck with more than one trailer behind it. They only receive so much use here in the United States since they are difficult and dangerous to drive. Plus, they're usually limited to just two trailers.
If you want to see the really big road trains, you need to head south. A lot farther south.
Australia is the birthplace of the road train, where they first appeared in the Flinders Range of South Australia in the mid 1800s, pulled behind traction engines, giving them a much more train-like appearance.
Today, Australia still uses more road trains than the rest of the world combined—and for good reason. Australian roads are some of the longest and most desolate in the world.
The overwhelming number of consumer cars and trucks we manufacture today are not capable of traveling between service stations in many parts of Australia on a single tank of gas. If you don't plan carefully, you WILL get stranded.
It's generally just a much better idea to fly wherever you're going. (Which most people do.) If you do decide to road-trip, though, you'll spend ages on the road without seeing anyone, followed by a massive road train almost knocking you off the road with the wind from its passage.
And it doesn't stop there. Double road trains aren't a particularly big deal in Australia. The really impressive ones are the triples and quadruples. You'll want to just pull off the side of the road when one gets near. These are the biggest and heaviest road-legal vehicles in the world, often pushing 200 tons. (There are much, much bigger ones, like the Bagger 288, but they're certainly not road-legal.)
While dangerous, these cost-effective road trains have been vital to the development of many remote Australian regions.
_________
Quotable
The Quote-Off with that other Yard Ramp Guy continues:
"Humor does not diminish the pain — it makes the space around it get bigger."
— Allen Klein