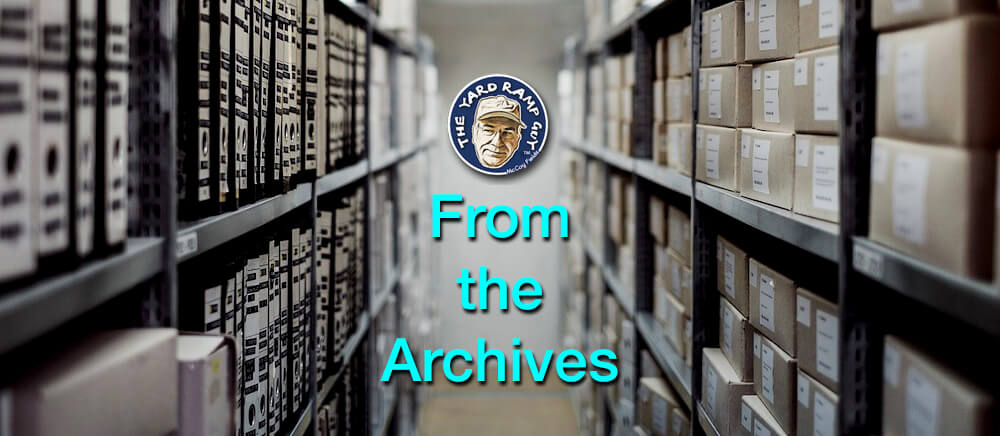 My good friend Jeff Mann, the true Yard Ramp Guy, has asked me to revisit some of my original posts. This week in my From the Archives series: Cable...is what's for dinner. And breakfast. And brunch. And lunch.
---
I've heard everyone—from my coworkers to the news outlets—describe ours as a wireless society. Nothing could be further from the truth.
A fun little statistic: In 2006, we transmitted less than one percent of all international data traffic via satellite. The percentage is a little higher today, but we continue to route the overwhelming majority of data through undersea fiber optic cables that stretch between every continent except Antarctica. Countries around the world consider them absolutely vital to their economies.
We've been laying underwater cable for a long time. Those first put into service were telegraphy cables, laid in the 1850s, though experimentation with the cables went back as far as the early 1840s (just a couple years after the invention of the telegraph). And during the Cold War, the United States and the Soviet Union tapped into and cut each others' cables.
Laying the cables today is immensely expensive. We spend billions of dollars each year on the process. And, while the cost has gone down a bit, it's still normal to see price tags hitting tens of thousands of dollars per mile.
Submarine cables also break, and they break frequently. Fishing trawlers, anchors, earthquakes, turbidity currents (giant underwater landslides), and shark bites are all major causes of these breakages. We're not entirely sure why sharks like biting them so much.
Repairing them is a difficult and costly process, involving specialized repair ships that lower grapples to lift the broken ends of the cables to the surface for repair. We employ different types of grapples, depending on the seafloor around the break (for example: rocky vs. sandy). In shallower waters, we can use submarines to repair the cables.
Politicians thrive on producing drama about literally anything. While drama over oil and such tend to hog most of the media attention, submarine cables are a really big deal.
The Yard Ramp Guy Blog: The Steel Surge
This week, my friend The Yard Ramp Guy explains how he manages to keep pricing comparatively low, even with the recent and "sudden" steel surge.
Click HERE to read another example of The Yard Ramp Guy's terrific reputation in the industry.