Beware the Golden Cow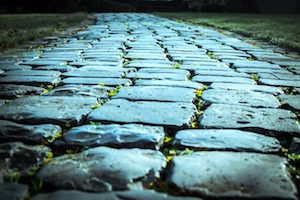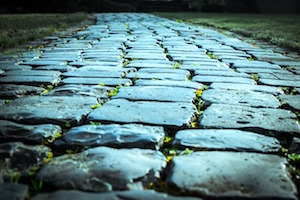 I write a lot about roads on this blog. The Yard Ramp Guy must think I'm a bit obsessed (though he'd probably phrase it differently).
The study of roads is the study of history. Countless historical events, from the outcomes of wars to international trade, and from religious expansion to the maintenance of nations: they all rely on roads.
Incan roads—not the most extensive network of ancient roads but one of the most technologically impressive—were earthquake-proof with incredibly durable suspension bridges. Roman roads have been receiving acclaim for millennia now, and many are still in use.
Which brings us to ancient Chinese roads.
Under the Qin Dynasty (circa 220 BC), Chinese road networks were considerably more extensive than their Roman contemporaries. One, the Ancient Road of Mules and Horses, was created in 214 BC by an advancing army of the Qin. The Emperor marched a half-million strong army in a straight line on one of his wars of conquest, crushing the earth in its path. They later covered the road in slate, and it remained in use for 2,000 years afterward without changing routes.
Road maintenance was key in holding onto territory in China. Later dynasties, like the Han, went to great pains to maintain this and other roads, building hostels and post offices along their lengths. Another Qin road was immensely long, built to service border forts along a huge wall that predated the Great Wall.
My favorite ancient road of all, though, is the Stone Cattle Road. One of the ancestors of the First Qin Emperor wanted to conquer the nearby Shu kingdom to the south, over the Qinling Mountains. He had his sculptors and artisans carve five life-sized stone cows and decorate their tails and hindquarters with gold.
When the king of Shu received news of them, he asked the Qin king to send him a herd. The Qin king claimed that he would need a gallery road (built of wooden planks imbedded in the sides of cliffs) across the mountains to move the cows. The Shu king not only permitted it; he also helped fund the construction.
Yes, we know how this story develops: The first thing the Qin king brought over wasn't a herd of gold-depositing cattle. He brought an army.
_________
Quotable
Oh, Yard Ramp Guy, the road to great quotations is paved with good intentions:
"Roads are long: make them short with a good company!"
— Mehmet Murat ildan