Marsh and Cope Have a Falling Out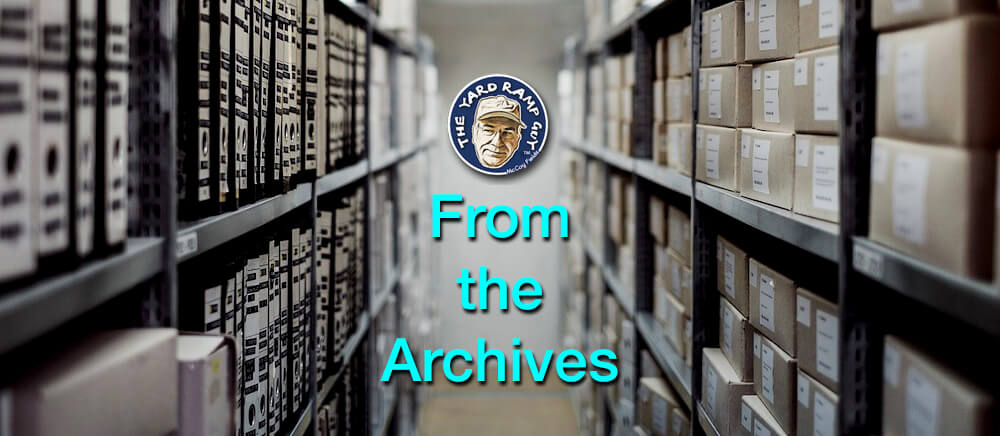 My good friend Jeff Mann, the true Yard Ramp Guy, has asked me to revisit some of my original posts. This week in my From the Archives series: it ain't easy studying dinosaurs.
---
There's one field of geology notably unrepresented at the United States Geological Survey: paleontology. This seems like a fairly major omission, and it's all thanks to a series of events known as the Bone Wars.
During the Gilded Age (the last thirty years or so of the 1800s in America), paleontology was an incredibly competitive field. At the time, we collected dinosaur fossils more rapidly than ever before. Two figures stood out above all the rest—Edward Drinker Cope, of the Academy of Natural Sciences of Philadelphia, and Othniel Charles Marsh.
Marsh and Cope began as friends when they first met in Berlin (Germany has always been a paleontological treasure trove), but their relationship began to sour quickly. By the early 1870s, things heated up to an absurd degree. A series of mishaps, oddities, and minor snubs, along with the fundamentally incompatible personalities of the two men, irrevocably ruined things between them.
In 1873, the Bone Wars began in earnest. The first shots fired were academic ones: renaming and reclassifying species to mess with the other, publicly pointing out one another's errors, and the like.
If things had stayed like that, it wouldn't have made history the way it did; academic rivalries are, as they say, a dime a dozen. However, the confrontation escalated rapidly from there.
Marsh and Cope began hiring employees away from one another, bribing officials to advantage themselves and hurt the other, stealing fossils from one another's sites, and so on and so forth. They actively tried to destroy one another's reputations, and even turned to destroying fossils rather than letting the other get his hands on them.
Financially and professionally, the rivalry eventually ruined both of them, and they never abandoned it.
The two scientists discovered 136 new species during the Bone Wars, including Triceratops and Stegosaurus. (Before then, we had only nine named species of dinosaur in North America.)
Unfortunately, the Bone Wars also did much to damage the reputation of American paleontology. It resulted in the loss of numerous fossils, the USGS losing its paleontology division, and a severe, decades-long blow to the reputation of American paleontology.
Yard Ramp Guy Blog: Warehouse Connection
This week, my friend The Yard Ramp Guy reminds us of his focus on safety and ⏤ what's this? ⏤ describes a ramp that's a level plane? Blasphemy, I say.
Click HERE to be bothered by it all.