You're Gonna Need a Bigger Boat
I am not a well educated man when it comes to art. Give me a ten-dollar painting of a sailing ship from a yard sale or thrift store and I'll be perfectly happy with it. Every once in a while, though, I find something that makes me take notice—in this case, it's a fella named Michael Heizer.
Heizer is known as what we call a land or earth artist—someone who builds immense outdoor pieces designed around and for their specific locations. These pieces are left out in the open to age and erode naturally. (Kinda like me.) Many of the earliest pieces from the 1960s don't exist anymore. If nothing else, Heizer's pieces are particularly notable for their sheer size.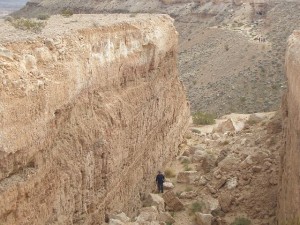 One of his best known pieces is a work called Double Negative, a pair of massive trenches cut into the edge of Mormon Mesa in Nevada. Each is 50 feet wide and 30 feet deep, and they have a combined length of 1,500 feet. The project involved moving 244,000 tons of rock.
Another project, Levitated Mass, involved the suspension of a massive, 21-foot tall, 340-ton boulder above a concrete trench that you can walk through. Moving the boulder itself was a massive feat of engineering. It only had 60 miles to travel, as the bird flies, but in order to get there they took it on a tangled 106-mile route through 22 cities in order to find bridges strong enough and streets wide enough.
The colossal custom transport could only move at seven miles an hour, and so they needed 11 days to get there, traveling only at night. Along the way, they had to cut down trees, temporarily remove traffic lights, and tow cars. The whole route turned into a series of parties at the transport's daytime resting places.
(The event was so cool that our other Yard Ramp Guy has blogged about it.)
Heizer's current project, in the works for 20 years now, is by far his most impressive. Not yet open to the public, it is an enormous, mile-long monolithic structure known only as City, with two smaller complexes nearby.
To give you a comparison, it's about the size of the National Mall in DC. It's located in the brand new Basin and Range National Monument. As soon as it opens to the public, you can bet I'll be visiting.

_________
Clf23 at English Wikipedia [GFDL, CC-BY-SA-3.0], via Wikimedia Commons