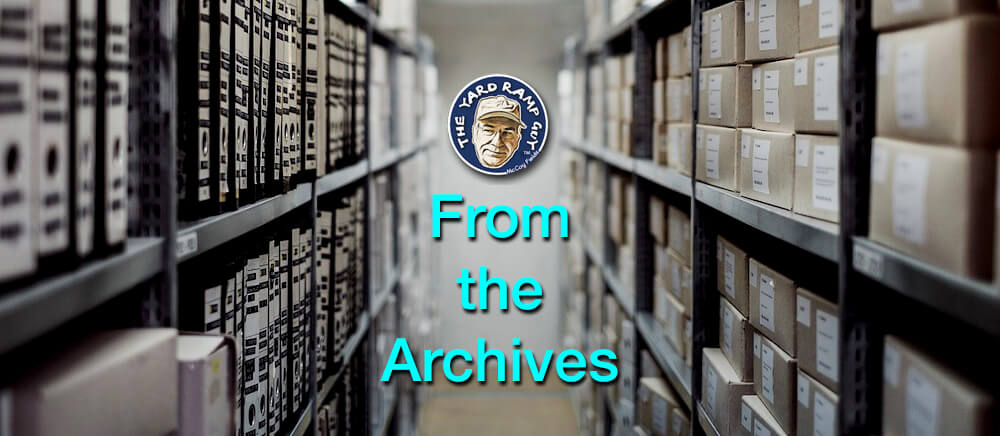 My good friend Jeff Mann, the true Yard Ramp Guy, has asked me to revisit some of my original contributions. And so: my From the Archives series. This week: Italy makes me dizzy.
---
There is one kind of ramp I absolutely love, except when I'm using it, in which case I absolutely hate it. That ramp is the switchback.
Anyone who's done much mountain driving learns to hate switchbacks, even though they're some of the most cost-effective engineering tricks we have in the mountains. (Much, much cheaper than tunnels, that's for sure.) Truckers especially hate them. I've known some who will go hours out of their way to avoid them. I think gearheads are the only ones who enjoy them.
One of the craziest examples of the breed is the Stelvio Pass in Italy. It's one of the highest roads in the Alps and has 75 switchbacks. Seventy-five! Not a road you want to drive fast on, or even drive on at all if you can help it. Apparently, it's so dangerous during the winter and spring that they close it completely during those seasons.
Of course, being dangerous, gearheads flock to it. That British car show everyone likes, "Top Gear" (I don't watch that show anymore after what they said about the F150), declared it the greatest driving road in the world. (Or at least in Europe. Have you seen the pictures of the crazy roads they have in the mountains in India?)
The Italian bicycle Grand Tour frequently goes through Stelvio Pass. (The Giro d'Italia, sister race to the Tour de France. I try to catch all three of the Grand Tours when I can.) Thousands and thousands of cyclists ride through Stelvio Pass every year.
It's easier to find info on battles fought at the pass than it is to find anything beyond basic info on its construction or maintenance, but that's pretty constant. Historians are obsessed with wars, despite the fact that construction and architecture affect us way more.
I'm working on persuading Maggie on this European vacation bit but, as carsick as she gets, I don't think that Stelvio Pass will be on the itinerary.
The Yard Ramp Guy Blog: Moving Your Yard Ramp
This week, my friend The Yard Ramp Guy provides some astounding weight comparisons (and gives me newfound respect for the blue whale, from which I'll never ever wish to receive a tongue lashing), then transitions from heavy to smooth and shows how easy it is to move a yard ramp.
Buckle up, then click HERE to read all about it.