Built in the early 60s, the Arecibo Observatory in Puerto Rico is the largest radio telescope in the world, with a diameter of a thousand feet. It's appeared in a James Bond movie, "Contact," "The X-Files," and any number of novels.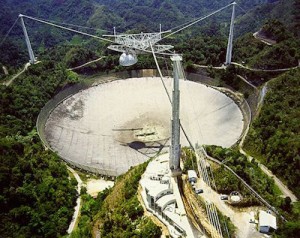 Numerous discoveries have been made from there, ranging from new knowledge about the planets in our own solar systems to the discovery of pulsars, the first planets outside our solar system and examinations of distant galaxies. Basically, I'm trying to say that it's a really big deal.
Much of the motivation for building the radio telescope was actually military based—it was used to discover Soviet radar installations during the Cold War by, get this: listening for Soviet radar waves bouncing off the moon.
Nonetheless, it has also been one of the most important scientific research installations on Earth for much of its life. One of the most famous programs run out of Arecibo is SETI, or the Search for Extra-Terrestrial Life, which analyzes data from the telescope to try and find any alien radio signals.
You can actually help with that through SETI@Home, a computer program that lets SETI use your computer remotely to help perform calculations. I've been running it for years.
In recent times, the observatory has faced significant funding troubles, though it is managing to hold on and continue performing a bunch of worthy scientific work.
If you're ever in Puerto Rico, you can actually visit the radio telescope. Though you can't enter the labs or the various work spaces, there is a visitor center that provides a view of the dish, and is filled with interactive displays and exhibits. I went there once; it was definitely worth the trip.
Here's a fascinating gallery of photos from the construction of the Arecibo radio.