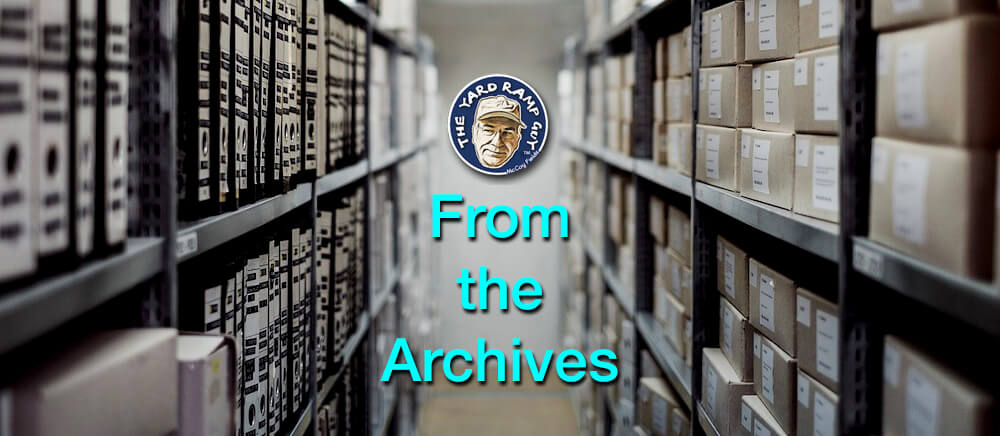 My good friend Jeff Mann, the true Yard Ramp Guy, has asked me to revisit some of my original contributions. And so: my From the Archives series. Back now to ramps, one of my favorite inventions...
---
You know the first thing I see when I Google "ramps"? (Ignoring those constant ads, of course). A Wikipedia article on ramps. It's a pretty well researched and detailed article, too, listing all sorts of uses for ramps, their discovery and history, even festivals dedicated to them!
The only problem, though, isn't about inclined planes. It's about a plant. Specifically: Allium tricoccum, also known as wild leeks.
So when you Google one of the most important inventions in human history—one of the basic simple machines that makes civilization work—you get a smelly weed that some people like to eat. Maybe it's just me: I think the invention that allowed us to build the pyramids is a little more important than a backyard pest that makes food smell like old socks.
At least if you search on Wikipedia itself, inclined planes are the first thing to pop up. Whoever runs that site seems to know what they're doing, unlike those culinary-minded dudes at Google. It's all that time inside, I'm telling you. It's not healthy. You need fresh air and sunlight every day, so you don't end up drooling over random greenery from your yard.
And no, this rant wasn't inspired by the new diet Maggie is putting me on. It's a legitimate complaint. I mean, I don't mind cutting back on red meat even more. I like fish and poultry just fine. I hardly drink more than a beer or two anymore, and I've been watching my cholesterol since my bypass 15 years ago.
I really just think that it's not going to hurt me to eat proper vegetables you find in the grocery store, not expensive health food store stuff I could pull out of my neighbor's yard.
(The one without the dogs, at least. Nice dogs, but I'm not eating anything out of that yard.)
That's not the point, though. I just think that Google is doing inclined planes a real disservice.
The Yard Ramp Guy®: Success in Yard Ramp Industrials
This week, my friend The Yard Ramp Guy's big wheels keep on turning with a great riff on the importance of attention to detail.
Dig into the specifics HERE.