You normally want ramps to have a relatively low slope: it's hardly going to cut back on the amount of work you need to do to get something to the top if it's too steep.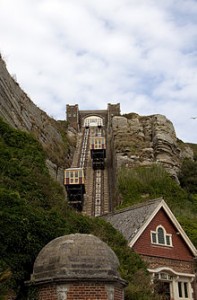 Unfortunately, it sometimes isn't possible to construct a shallow ramp, usually due to terrain. You've still got to be able to get up to the top, though, which is where funiculars come into the picture.
A funicular is essentially a pair of linked carts on rails going up and down a slope. Think elevator, but tilted to the side, and using each other as counterweights instead of having their own counterweights.
Funiculars take shockingly little power to operate, since you're really only hauling up the weight of the load. In fact, some low-tech funiculars operate by filling water tanks at the top cart and draining them at the bottom, which pulls down the top cart and vice versa. They're an extremely effective way to get around, and since they're usually in the mountains, you usually get a great view as well, except when you go through a tunnel. You also get quite a few in mines.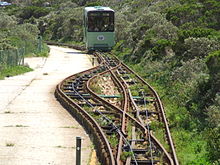 Depending on the amount of space available, the carts might have separate tracks, or they may share tracks. When they share track, there's generally a split rail in the middle of the run that diverts the carts around each other.
Unfortunately, a funicular was the site of the worst ramp-related disaster in history. (Yes, definitely worse than the countless groin injuries caused by ramps in sports.) The Kaprun disaster occurred on a large funicular leading up to a ski resort. One of the large trams used in the funicular caught fire while going up the tunnel. The resulting smoke billowed up through the tunnel, killing more than 150 people, largely through smoke inhalation.
The disaster turned out to be caused mostly by poor training and a fault in the tram car, but public confidence in funiculars remained shaken for some years. (Maggie wouldn't let me ride the last one we saw, but I think I've finally got her convinced that they're safe.)