Or: Good Luck Getting There
The most interesting lake in the world is completely inaccessible.
Well, maybe not completely, but close enough for government work. Which, come to think of it, usually isn't that close.
Lake Vostok is located in Antarctica. Bit of a strange place for a lake, I know, but this gets even weirder. Its surface is 500 feet below sea level. Lake Vostok is believed to have species of bacteria that are present nowhere else on the planet. It's also the largest lake in Antarctica, at more than 160 miles long and 30 miles wide.
And just to make all this interesting, there's a magnetic anomaly in one end of the lake.
Vostok Station, the nearby research facility, recorded the coldest known temperature ever on our planet. The lake has a single island, which no one has ever set foot on. It's also in complete darkness, even during the part of the year when Antarctica gets sunlight. That, of course, is because it's buried under 13,000 feet of ice.
As in: Lake Vostok is buried under a two and a half mile-high glacier.
Clearly impossible, right? Normally, yes, but in this case, the massive weight and compression created by the glacier caused its lowest layer to heat up, melting the ice and forming Lake Vostok. There are more than 500 of these subglacial lakes in Antarctic.
The hunt for life in Lake Vostok has become a major point of interest. Any creepy-crawly thing there would likely have been sealed off for the lake's entire 15 million-year lifespan. The warm, oxygen rich, and pitch black waters would have created an ecosystem unlike anything else on the planet.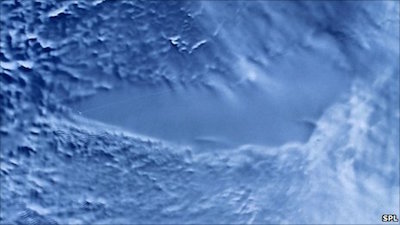 Unfortunately, there are concerns that the antifreeze used to maintain the boreholes through the glacier might contaminate the lake, so scientists are proceeding with extreme caution. While the overwhelming majority of species they have found could quite likely just be contaminants from the surface, they have found at least one previously unknown species that might very well have come from the lake itself.
Mission to Mars? Sure. But Vacation in Vostok: now we're talking…even though Maggie won't hear of it.