Amazon is the biggest online retailer in existence. On some of their busier days, they've been known to receive more than 400 orders per second. Anyone who has ever worked in a warehouse can tell you that this is an absolutely astounding number. Even with warehouses all over, this would be a huge challenge for human workers. So, in 2012 Amazon purchased an army of robots for three quarters of a billion dollars.
The Kiva robots are like big, square Roomba robot vacuum cleaners, though they function more like forklifts. They're about 16 inches tall and weigh 320 pounds When a customer orders something on Amazon, a robot is dispatched with orders to retrieve the tall, thin square shelf that the item is on.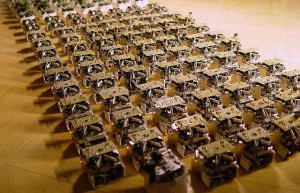 The Kivas roll through the Amazon warehouses, carefully guided and controlled by a central computer to avoid collisions. They scoot under shelves, stopping when they reach the programmed location and spin in place to lift the shelf. Then they pilot the whole shelf to a station where a human employee grabs the customer's order. The order then travels through an array of other steps to get to the customer.
Amazon has more than 15,000 of these robots in their warehouses right now, processing a majority of the orders. Establishing a testing a system for a warehouse can take quite a while, sometimes months. Amazon's engineers have to assure that the army of robots on the warehouse floor can move about without running into one another and toppling shelves over left and right, which is no easy task.
They also have to set the system up for prioritizing where to set shelves, in order to minimize retrieval times for the robots.
Surprisingly enough, the Kiva robots haven't resulted in job losses. Instead, the workers move from the picking-and-sorting jobs to train in other positions. In this scenario, when more robots are added, more work is created for the human workers. Seemingly: everybody wins. Plus, as anyone who has ever worked in a warehouse can easily attest, picking is a job tailor-made for robots.